I'm linked up with all these pretty ladies this week...
Today's Creative Blog, Making the World Cuter and Blue Cricket Design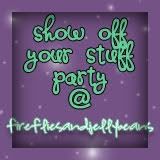 If you were curious...or even if you weren't...
Those Pretty Satin Rope Necklaces I showed you yesterday -
Well, they will be the precious prize for our NEW GIVEAWAY!!!
As soon as we reach 75 PUBLIC followers...
the giveaway will begin
and one lucky reader will be chosen via Random.org to welcome a Satin beauty to her pretty little neck!
Fun....right?!?!
That means we only need 4 more PUBLIC followers - what?!?!
Yeah, so don't be shy...