I have a new blog love... and it's author's name is Megan.
Her blog is all about who we really ARE inside...
stripping away any labels, or categories we are placed in by others or place upon ourselves.

She features a specific theme every month and shares little bits and pieces of life through images, that correlate with the theme, from women all over the world.

It's a safe place where you can feel connected to others...find women who feel what you feel, have been through similar situations, or find women who just motivate and inspire you to be a better version of yourself.

Today I am featured over at Megan's inspiring blog and I'm so excited to share it with you.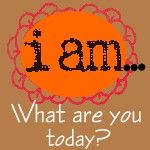 I hope you head over and take a look...